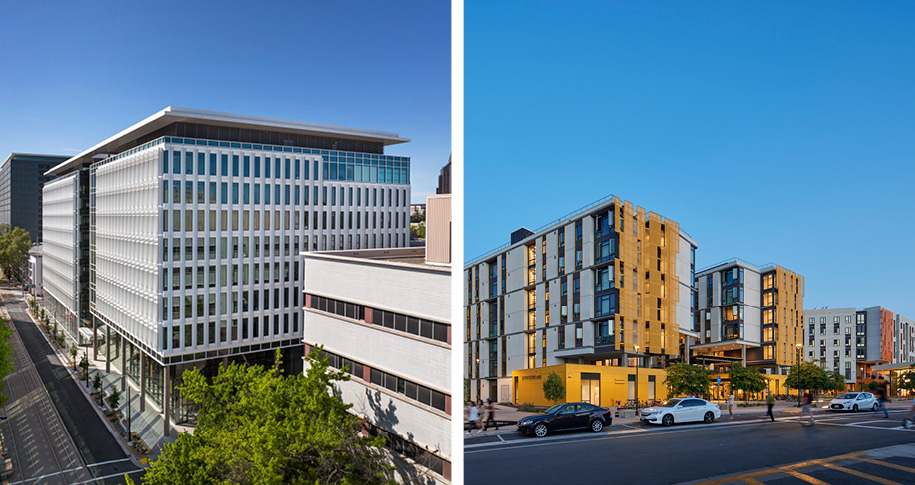 Engineering News-Record is a world-renowned magazine that provides news, analysis, data and opinion for the construction industry. In August of 2023, ENR California honored both our Southern California and Northern California Regions by awarding the University of California, Irvine Verano 8 Graduate Student Housing and the 1021 O Street State Office Building with their Best Project Award in the Excellence in Sustainability category. Only projects with exemplary sustainability practices that go above and beyond the industry norm are considered for this special award.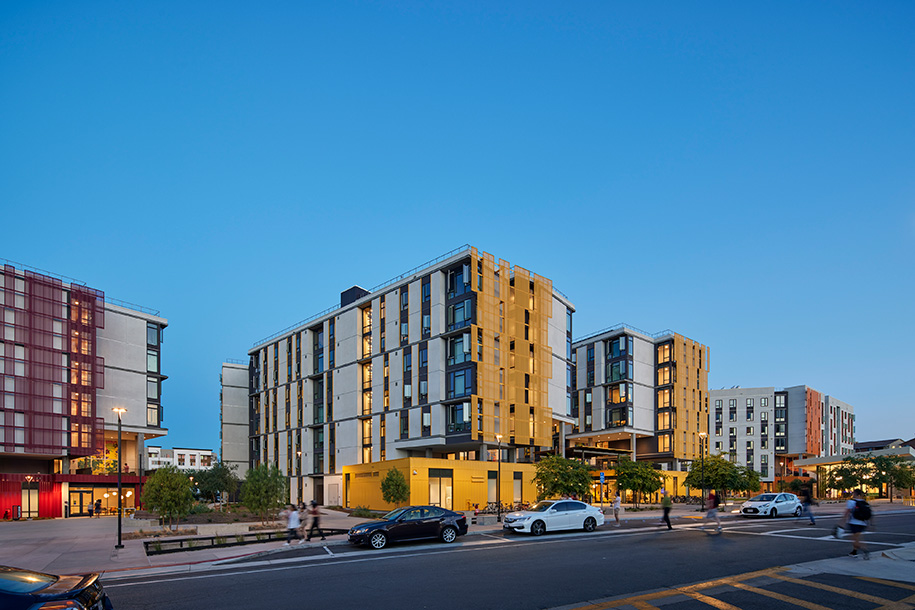 University of California, Irvine Verano 8 Graduate Student Housing
The new UC Irvine Verano 8 Graduate Student Housing community adds 1,055 beds for graduate students across five seven-story buildings. Verano 8 also includes a 15,996 SF community building that serves residents and the broader community with diverse social, study and event spaces. The spaces include lounges, a game room, music practice rooms, study suites, a large multipurpose room for events and lectures and a wellness/yoga room. In addition, the project includes a 10,311 SF maintenance and operations facility and a 253,442 SF, 853-stall parking structure.
The five residential buildings at Verano 8 surround the community center. They include integrated lounge spaces and have studio, two- and- four-bedroom units. The community features carefully landscaped areas, including a communal plaza, large community lawns and intimately scaled outdoor rooms between buildings. Shade structures are installed along the community's pathways to ensure comfort for pedestrians. Additional outdoor amenities include ample bike facilities, shared barbeque areas, native and drought-tolerant plants, robust stormwater infrastructure and a hammock garden.
The new Verano 8 community was designed to address critical priorities for UC Irvine's graduate students–specifically affordability, community, inclusive design, sustainability and privacy. Durable, long-lasting materials and energy-efficient design measures reduce the university's costs and translate into the ability to offer significantly lower rents for students than in the surrounding communities. In addition, social spaces such as decompression zones and communal lounges were constructed to aid students dealing with loneliness and anxiety.
The advanced facility was designed to optimize resident health and is LEED Platinum certified and Fitwel certified. Features that support student health and well-being include active stairs, biophilic design strategies and community gardens. Other sustainable practices incorporated into this project include the building organization and orientation to take advantage of environmental cooling and daylight harvesting, the use of a concrete structure that acts as a thermal mass and active solar photovoltaic generation.
Environmental Cooling
The organization of the site and buildings was optimized to capture prevailing winds to provide cooling without using energy. The residential units have purposefully designed larger operable windows to maximize ventilation.
Daylight Harvesting
The building and site orientation illuminate interior spaces with ambient outdoor light. Rooms were designed to provide balanced daylight access while minimizing heat gain and glare from low sun angles.
Thermal Mass with Concrete Structure
Using a durable concrete structure allows the building to act as a thermal mass that absorbs and releases energy due to its material and density. During certain times of the year, this can increase the thermal comfort of the residents and reduce energy use. With the large window openings, the building allows ample natural light inside. During the winter, this light will radiate into the building and warm up the concrete slab. When the sun sets and the outside temperature drops, the warmer concrete slab will radiate heat into the space, helping keep the students comfortable. During the nighttime summer months when the windows are open, the space temperature in the apartments will cool off. This cooler air will also cool the structure. As the sun rises and the temperature rises, the cooler slab temperature will continue to absorb heat from the solar radiation, providing a cooler space into the morning.
Active Solar Photovoltaic Generation
Photovoltaic (PV) panels are located on residential building roofs throughout the site to generate clean, renewable energy. PV panels are a highly visible symbol of sustainability and UC Irvine's commitment to the stewardship of energy resources.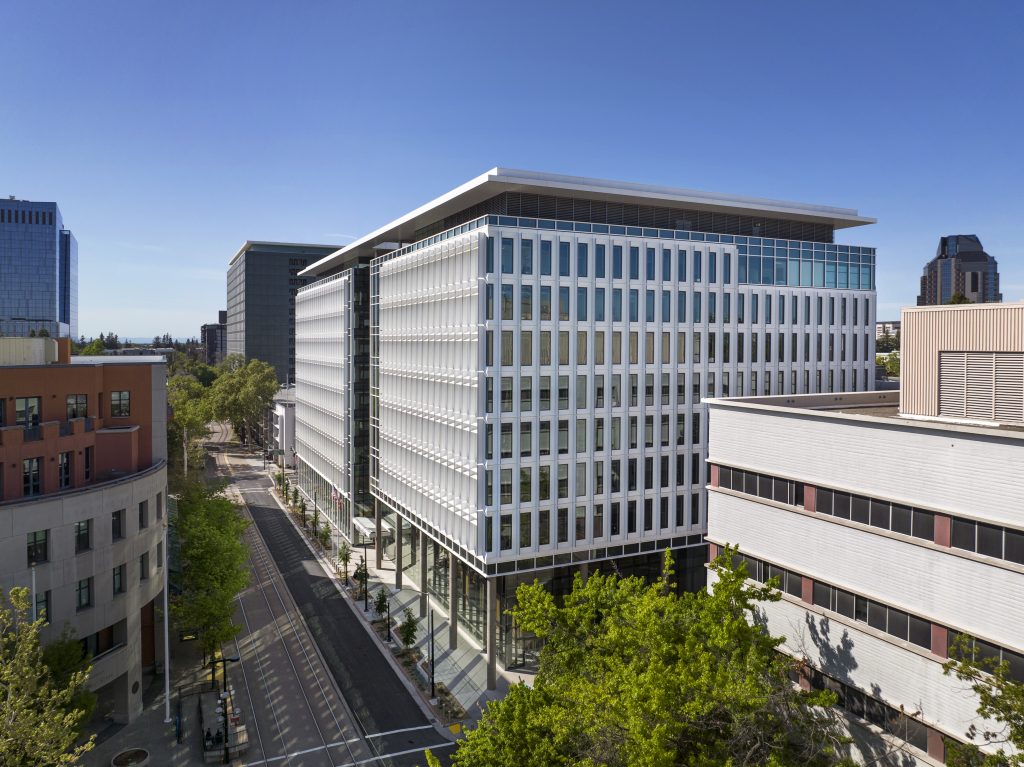 1021 O Street State Office Building
Situated in the heart of Sacramento's historic government center, the new 1021 O Street State Office Building serves as the temporary home for California's legislative and executive elected officials and staff for the duration of the Capitol Annex Project. Over the long term, it will provide additional state-owned facilities for joint occupancy by legislative and executive branch entities. The State of California, Department of General Services' (DGS) led this 472,000 SF project, which rises 10 stories above downtown Sacramento and provides stunning views of the State Capitol Building.
Making the building open and inviting to the public and facilitating public involvement with the elected officials was a high priority. The pedestrian-scaled, transparent base of the building invites the community to engage in the democratic process and facilitates continued public access to legislative hearings and state representatives while the state's Capitol Annex is rebuilt. Two levels of publicly oriented space allow constituents to participate in government through four public hearing rooms and a press room with state-of-the-art audiovisual systems to support broadcasts, overflow monitors with public seating in the lobby areas and facilities for teleconferencing with staff and constituents. The upper floors house legislative and executive offices, and collaboration spaces for more than 1,250 state employees.
The 1021 O Street State Office Building was designed and built to embody the State of California's goals to achieve carbon neutrality and serve as a beacon of sustainability. It was constructed to stand the test of time, both in terms of its timeless aesthetic and high-quality materials. The project achieved the maximum number of LEED Innovation points for strategies including construction waste diversion, integrated pest management, green cleaning policies and low mercury lamps. An interactive dashboard in the building lobby shares live metering of climate, air quality and the building's energy consumption and renewable energy generation. The project exceeded the State's goals of LEED Gold and CalGreen compliance, and earned LEED Platinum and CalGreen Tier 2 certifications, all of which helped DGS achieve its carbon neutrality and infrastructure resiliency goals. The 1021 O Street State Office Building serves as a benchmark for future DGS buildings, setting a new standard for sustainability and flexibility for the State.
Design for Energy
As one of California's first all-electric state office buildings, the design implements a rigorous approach to energy conservation. The façade plays an integral role in this approach. Conceived as a layered shell, the outer façade overlays a pre-cast/pre-glazed glass fiber reinforced concrete enclosure resulting in enhanced building insulation and improved thermal performance. The optimized façade also responds to differing environmental conditions on each face, balancing solar gain, daylight and views. Vertical fins serve as a functional framework for the entire building, creating visual continuity while providing necessary shading in Sacramento's Mediterranean climate. As a result, almost no direct solar load reaches the glazing, resulting in greater clarity of views and deeper daylight penetration. This in turn supports a more pleasant and healthy workplace environment.
A centralized Building Management System enables real-time analysis of building performance and fine-tuning of mechanical systems including a low friction air delivery system and water to water heat pump. The building features 100% LED lighting and individual task lights, and EV-charging stations. The building is powered by 100% renewable energy through community solar agreements resulting in 103% energy savings from baseline.
Design for Water
The team took an aggressive approach to water reuse and conservation. The building's water use was reduced by 40.65% from the baseline, resulting in 957,116.25 gallons/year savings from the baseline through low-flow fixtures, dual plumbing to accommodate future reclaimed water connection to supply toilets and urinals, and efficient treatment and reuse of cooling tower make-up. Outdoor water use was also reduced by 71% from the baseline through drought-tolerant landscaping strategies and low-flow irrigation.
Design for Wellbeing
The design enhances occupant health and wellbeing throughout the building. The high-performance façade and efficient mechanical systems maximize occupant comfort, indoor air quality, access to daylight and sweeping views. Irresistible stairs at the center of building encourage physical activity. The third-floor café serves local and healthy foods. Biophilic design elements such as lush outdoor terraces, natural materials, and a landscaped streetscape provide occupants with a direct connection to nature and the outdoors. The team selected healthy materials, including more than 50 products with Healthy Product Declarations, 150 with Environmental Product Declarations, more than 75 products with material ingredient reporting and additional low-emitting certified products.
Design for Resources
The design implemented a strategic approach to material selection, going beyond LEED v4 requirements while balancing sustainability and ecological goals with economical innovation. Conceived as a layered shell, the building façade is composed of prefabricated modular kit-of-parts and 100% FSC certified wood was used throughout the interior. Combined with cement replacement, the post-tensioned concrete slabs reduced the building's overall embodied carbon by 9.16% from the baseline resulting in a global warming potential of 438.7 kgCo2e/m2.
Design for Ecosystems
The design amplifies biophilic benefits for occupants and the community, celebrating Sacramento's treed urban landscape. Lush outdoor terraces interspersed on different levels of the building's "Heart" provide occupants with spaces for respite and a direct connection with nature. Seventeen native valley oaks line the building from east to west, creating a vibrant streetscape that brings nature indoors through the transparent façade. The planting palette features 20 native, drought-tolerant species of trees, ferns and succulents that increase floral biodiversity and pollinator habitat. Overall, the design preserves 66% of the site as open space and integrates 9,839 SF of vegetation.