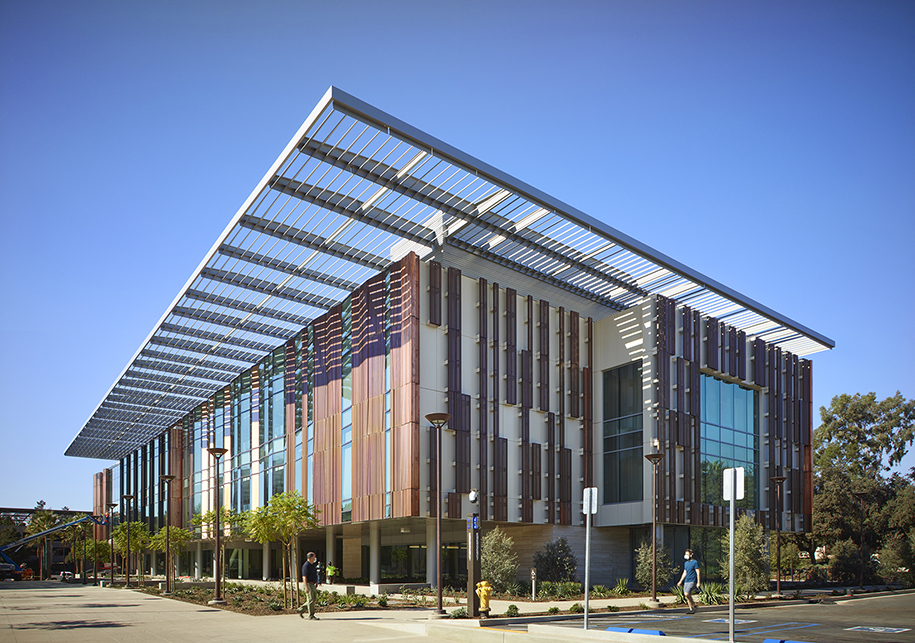 Hensel Phelps has a long history of successfully delivering design-build projects in California, Arizona and Hawaii, including their first-ever National DBIA Award winning project, the City of Oakland Administration Building, in 1999. Having completed more than 170 design-build projects in the Western Pacific Region (WPR), totaling more than $16 billion dollars, Hensel Phelps understands the commitment and collaboration needed to develop trusted partnerships. This year's DBIA WPR award winners were no different, building on lessons learned and proven partnerships to set all three projects up for success, including Project of the Year, the Caltech Chen Neuroscience Research Center.
Caltech Tianqiao and Chrissy Chen Neuroscience Research Building
"Hensel Phelps created a platform of collaboration throughout the project which fostered a trusted partnership that was integral to the success of the project. Caltech is very proud of the Tianqiao and Chrissy Chen Neuroscience Research Building (CNRB) and sincerely thanks the Hensel Phelps team for their professionalism and commitment to excellence portrayed throughout this project. This project sets a high bar for all future design-build projects." – Terri Mestas, CCM, PMP, LEED AP, Sr. Director for Capital Projects, Modernization, Planning Design and Construction, California Institute of Technology
The new 144,780 SF, five-story Caltech Tianqiao and Chrissy Chen Neuroscience Research Building serves as the University's new administrative and knowledge center for the Division of Biology and Biological Engineering. The neuroscience institute investigates the challenges in understanding how the brain works, focusing on the discovery, treatment, and development of the brain.
The $193 million state-of-the-art research facility fosters cross-disciplinary collaboration by providing "research neighborhoods", providing wet, dry, and computational research labs. The complex also includes a teaching lab, a 150-seat lecture hall, offices, and conference rooms to accommodate faculty, professional researchers, graduate students, post-doctoral scholars, and administrative support. A pedestrian tunnel connects the sub-basement of the new neuroscience building to the Broad Center for the Biological Sciences.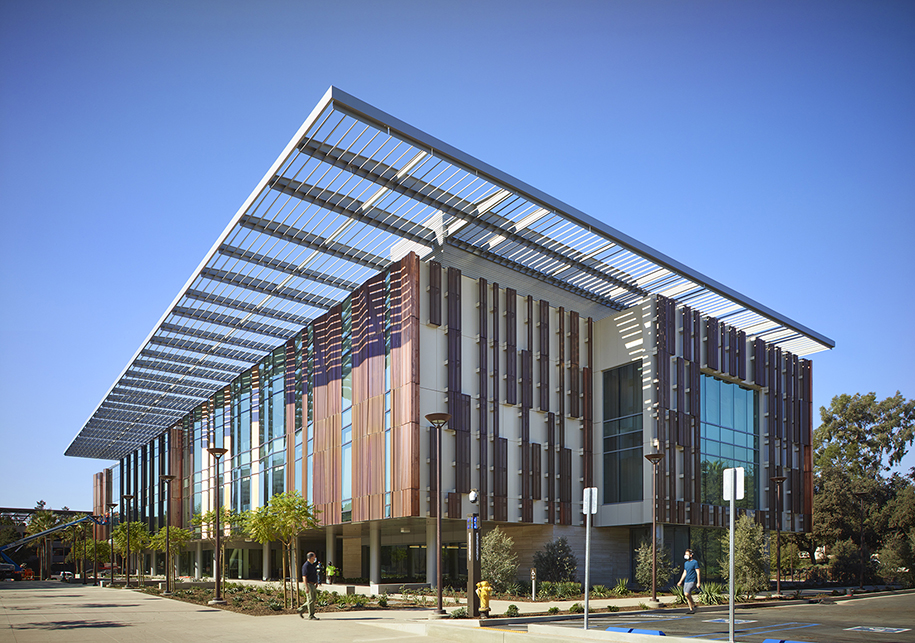 Awards: Project of the Year & Design Excellence Award
Location: Pasadena, California
Owner: California Institute of Technology
Market: Research/Laboratories
Contract Value: $193 Million
Square Footage: 144,780 SF
Completion Date: October 2020
Delivery Method: Design-Build
Architect: SmithGroup
University of California, San Diego Nuevo West Graduate Student Housing
One of the keys to a successful design-build project is a team that works collaboratively to engage and interact throughout the design and construction of the project. The UCSD Nuevo West team took this to heart and was comprised of the same core team members who received the DBIA National Award for "Best in Teaming" for the UCSD Mesa Nueva Graduate and Professional Student Housing Project in 2019. Not only was this team logistically aligned for delivery of the design and construction, our relationship and bond with one another created an atmosphere for achievement, trust, collaboration and growth.
The University of California, San Diego Nuevo West Graduate Student Housing is a $152 million mixed-use residential community that totals 441,788 SF within two residential buildings and a market. The Nuevo West residential community provides a total of 884 new beds for UCSD graduate students as well as the La Jolla Family House program, which features 25 guest rooms and 15 two-bedroom apartments to accommodate the family and relatives of patients being treated at nearby UCSD Medical Center.
This LEED Gold facility is a vibrant portal adjacent to the pedestrian and bicycle bridge that links the university's East and West campuses. Nuevo West includes an active mix of amenities to serve is diverse resident population and other campus visitors including a marketplace, café, activity and study rooms, music practice rooms, central plaza, community garden, outdoor cooking and gathering space, gardens, parking and a rooftop perch.
Award: Merit Award
Location: La Jolla, California
Owner: University of California, San Diego
Market: Higher Education
Contract Value: $152 Million
Square Footage: 441,788 SF
Completion Date: January 2020
Delivery Method: Design-Build
Architect: Mithun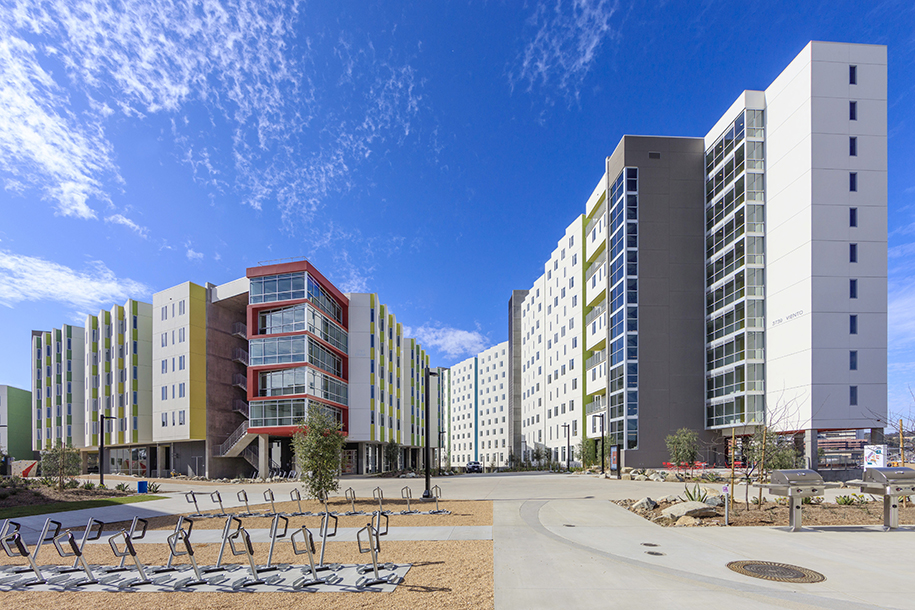 Contra Costa County Administration Building and Emergency Operations Center
"This was Contra Costa County's first major design-build project and it was very successful. This project exemplifies everything design-build as a procurement method promises. Throughout the RFP process the Hensel Phelps team listened and understood the County's need for rapid construction of modern, aesthetically pleasing signature buildings with LEED Gold certification and responded with solutions designed to accommodate the rapid build requirement." – Eric Angstadt, Chief Assistant County Administrator, Contra Costa County
The new LEED Gold Contra Costa County Administration Building creates an efficient and welcoming landmark for downtown Martinez and the surrounding community. The four-story, 71,000 SF building houses office space for a variety of County departments, with the new Board Assembly Chamber located on the first floor. The second floor serves as the employee entrance with the three upper floors being comprised of offices, workstations, interview rooms, and conference rooms to help provide flexible working areas, as well as a wellness room, a training room and staff lounges to provide spaces of relaxation during the workday.
The Contra Costa County Emergency Operations Center (EOC) is a new, two-story state-of-the-art headquarters for the Contra Costa County Sherriff. The building, situated as part of a larger County complex, provides a unifying and functional flow. One of the main features and highlights of the building is the "Situation Room" that features a 31'-10" x 13'-6" screen at one end made up of 48 smaller screens. Another highlight is the ground level lecture hall, also a flexible space, which features a glass garage door at one end that opens to allow more seating area for presentations. Additional building features include office space, conference rooms and workstations, a kitchen, a gym, multiple outdoor balcony spaces and a BBQ setup with picnic tables. Like it's sister building, the EOC achieved LEED Gold Certification.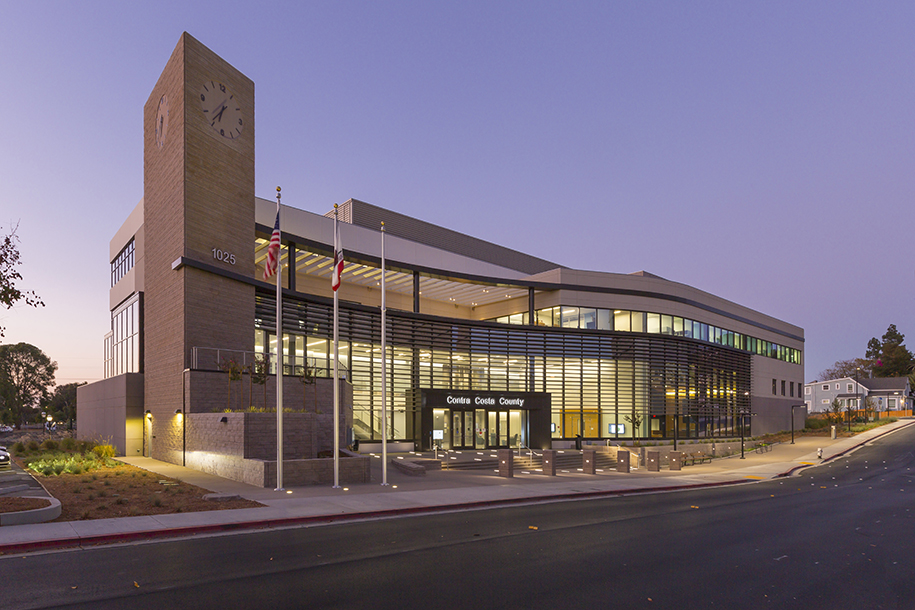 Award: Merit Award
Location: Martinez, California
Owner: Contra Costa County
Market: Civic
Contract Value: $110 Million
Square Footage: 108,909 SF
Completion Date: July 2020
Delivery Method: Design-Build
Architect: Fentress Architects (Admin) & Dreyfuss + Blackford Architecture (EOC)
"Ultimately, this design-build project and the joint team was able to deliver two critical buildings that Contra Costa County needed for over thirty years in less than two and a half years. I cannot imagine a more award worthy example of design-build and the benefits that procurement method can deliver than the new Contra Costa County Administration Building and the new Emergency Operations Center." – Eric Angstadt, Chief Assistant County Administrator, Contra Costa County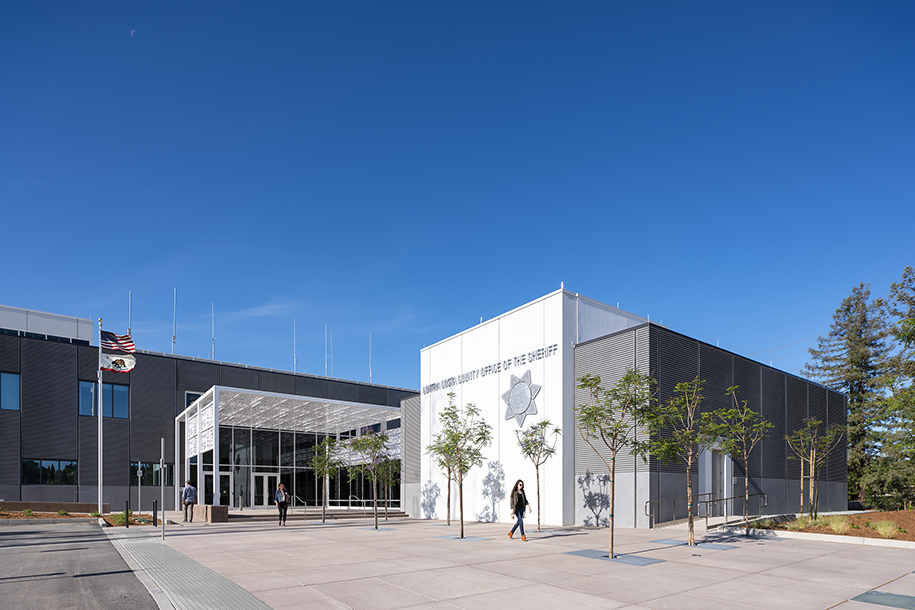 Since DBIA's founding, Hensel Phelps has been awarded more Design-Build Excellence Awards than any other general contractor in the nation. Backed by their 80-year history, Hensel Phelps has become a world-class leader in construction and the design-build community. For an up-to-date list of Hensel Phelps design-build projects recognized by DBIA, visit Hensel Phelps' DBIA timeline.