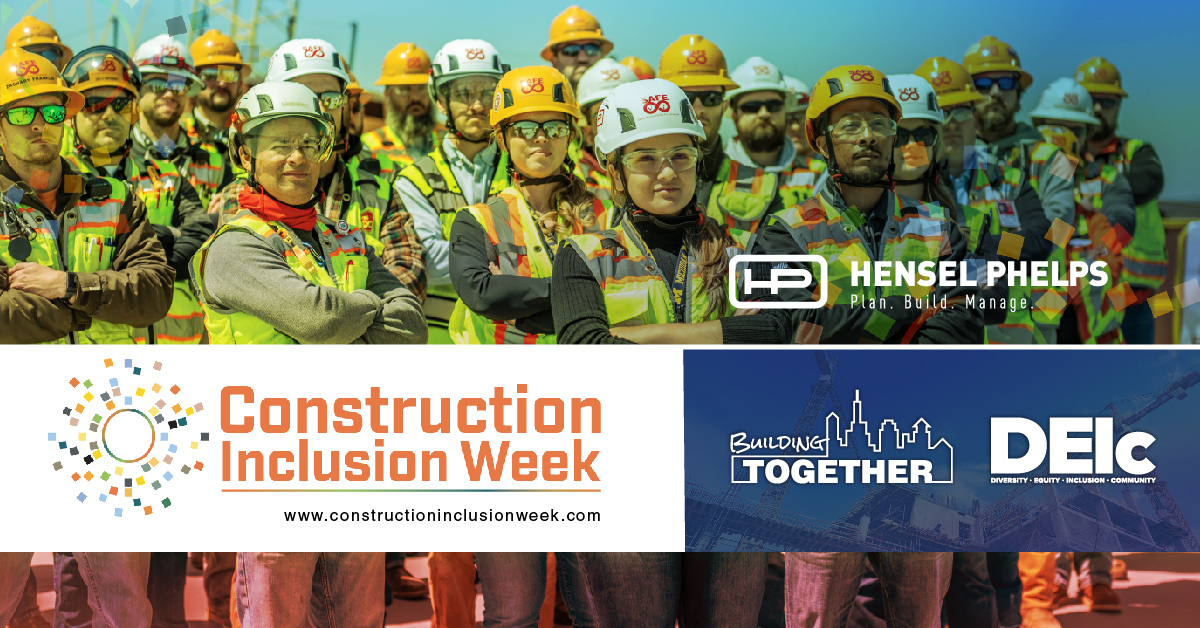 An advocate for its mission, Hensel Phelps is proud to participate once again in Construction Inclusion Week. Founded in 2021, Construction Inclusion Week amplifies awareness while celebrating diversity, equity, and inclusion (DEI) throughout the industry to spearhead change. The week provides educational and business resources for the construction industry including project teams, trade partners and industry affiliates.
In addition to these efforts, Hensel Phelps will focus on their efforts made within the company, community and within the AEC industry. By sharing a deeper look into how they engage and support one another, Hensel Phelps will celebrate diversity and inclusion awareness through powerful stories throughout the week, as well as participate in Construction Inclusion Weeks' daily themes:
• Commitment & Accountability
• Belonging
• Supplier Diversity
• Workplace Culture
• Community Engagement
"I take our core value of diversity very seriously. I understand the advantages that a diverse workforce can bring to our business and recognize that diversity goes hand in hand with inclusion and equity. That collectively, this mixture of differences in characteristics, experiences and backgrounds combined with the similarities of our Hensel Phelps core values, makes us a stronger company."

– Mike Choutka, Hensel Phelps President & CEO
Leading into this year's Construction Inclusion Week, Hensel Phelps has spent the year advocating their very own diversity and inclusion campaign, Building Together. Over the course of 2022, Hensel Phelps' Building Together campaign has spotlighted individuals and teams from across the company, portraying a unique perspective on diversity and inclusion. Inspired by national events including Black History Month and Pride, as well as industry-focused issues such as women in construction and mental health awareness, the campaign aims to increase awareness of challenges, as well as opportunities, facing employees, partners and loved ones.
To learn more about Hensel Phelps' Diversity and Inclusion campaign, visit Building Together.
ABOUT CONSTRUCTION INCLUSION WEEK
Construction Inclusion Week will harness the collective power of the construction industry to build awareness regarding the need to improve diversity, equity, and inclusion in the industry. Construction Inclusion Week will provide content and resources to share throughout the industry. For more information, visit www.constructioninclusionweek.com.
ABOUT BUILDING TOGETHER
Created by employees and partners, Building Together is Hensel Phelps' national diversity and inclusion campaign. Building Together highlights the importance of diversity within Hensel Phelps and the AEC industry, giving employees the opportunity to share their stories and learn from each other's experiences.