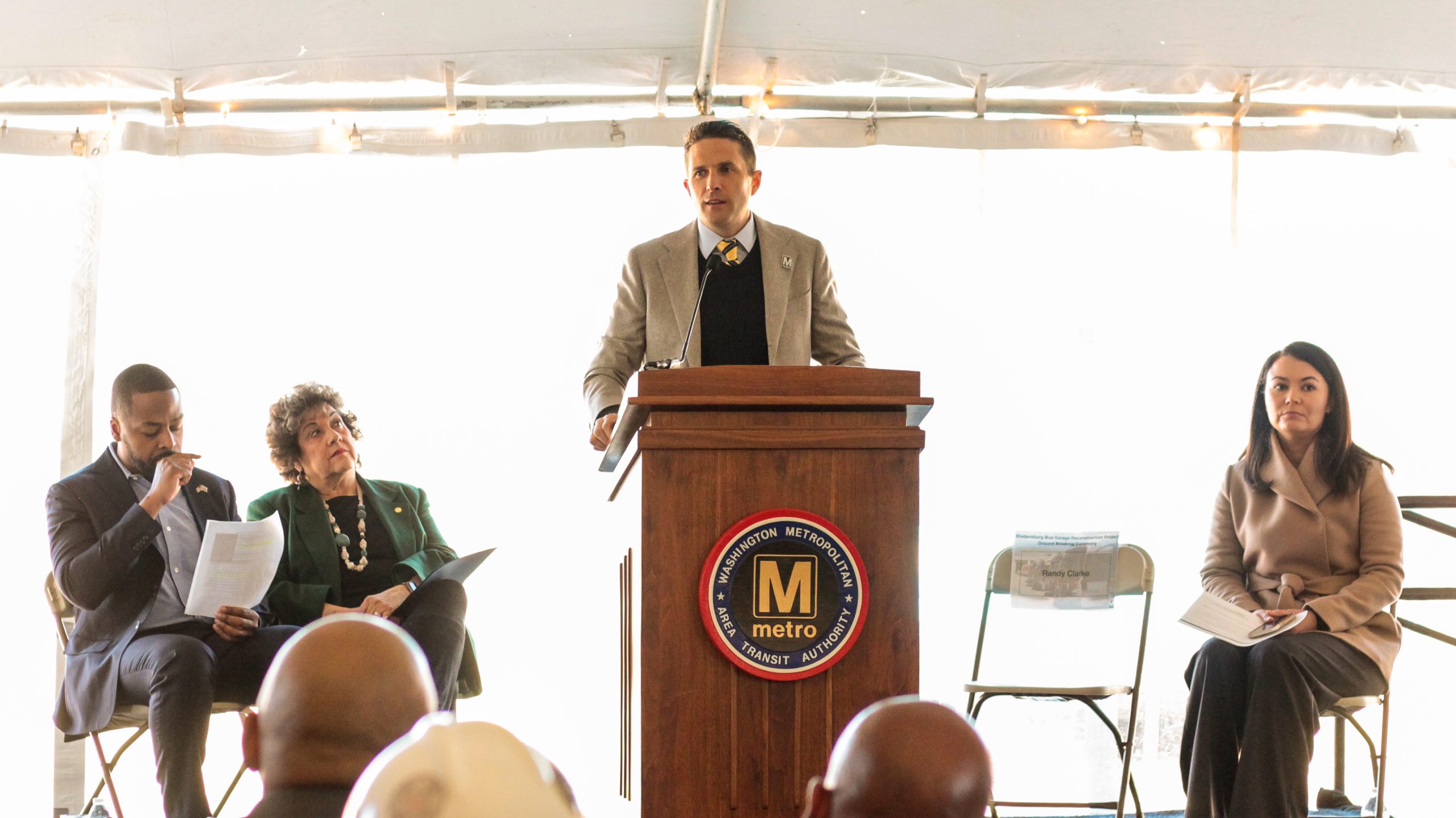 On Wednesday, March 8, Washington Metropolitan Area Transit Authority (WMATA) and local officials joined the Hensel Phelps project team to break ground on the Bladensburg Bus Garage project. With construction already underway, the ceremony recognized the continued successes and future plans for the project.
First built in 1962, the bus facility will be reconstructed in three phases to include environmental and infrastructure improvements to support Metro's transition to zero-emission buses. The 17-acre site off Bladensburg Road in northeast DC will be transformed into a new, modern facility housing 300 buses. Approximately half of the 300 buses will be all-electric.
Metro's General Manager and Chief Executive Officer Randy Clarke led the groundbreaking ceremony alongside DC Councilmember for Ward 5 Zachary Parker, FTA Regional Administrator Terry Garcia Crews, and Director of WMATA's replacement, expansion and capacity projects, Diana Levy.  
Hensel Phelps is proud to participate in WMATA's mission to transition to a zero-emissions bus fleet by 2045. The Bladensburg Bus Garage is WMATA's largest endeavor to achieve a 100% zero-emission bus fleet. The project is also designed to achieve LEED Platinum certification and includes a rainwater harvesting system for the bus wash, solar panels on the roof of the parking garage and electric charging vehicle stations. "We are moving in a greener future—​​​​​​​a better future for our operators, a better future for our customers and better air quality for our communities," said Clarke.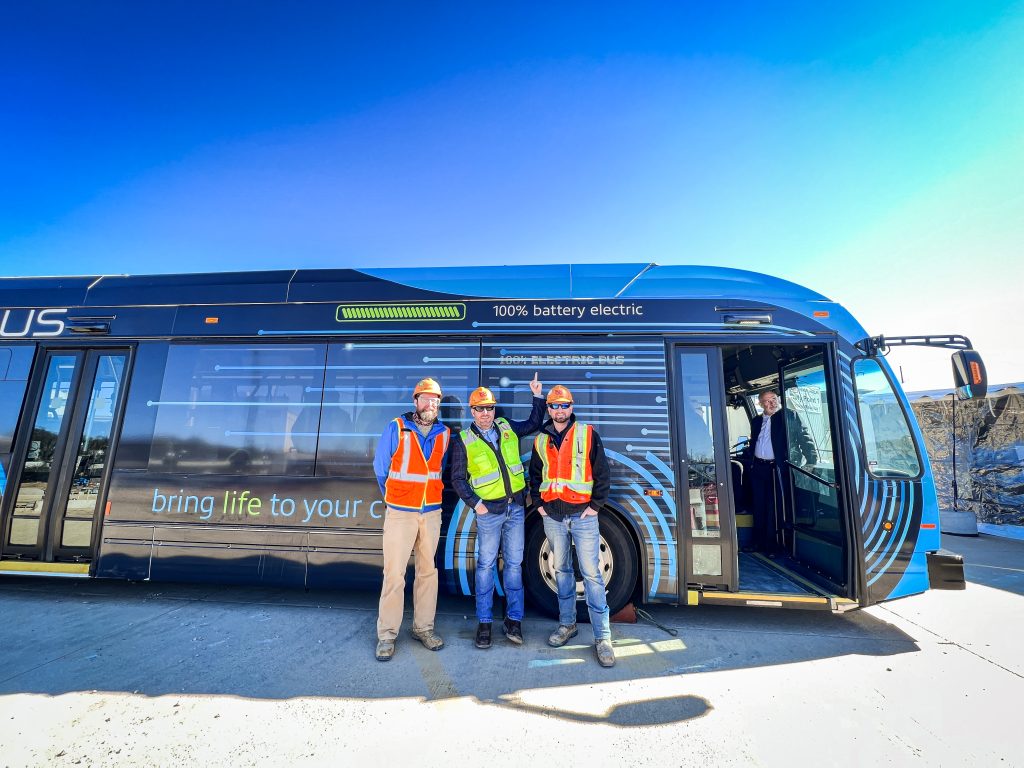 Hensel Phelps has completed multiple bus garage projects for WMATA within the past decade including the Andrews Federal Center bus garage and Shepherd Parkway bus garage. "Hensel Phelps has been our longstanding partner delivering almost every single bus facility in the metro system," said Levy. "We are grateful to have you as our partner."
The scope of work includes the demolition of the existing structure, site preparation and construction of the new bus operations and maintenance facility. The new facility will have the capacity to service a fleet of 300 WMATA transit vehicles, including articulated buses, and will run 24 hours per day, seven days per week. The facility will be designed to provide bus maintenance, repair, paint, operations along with fuel and wash services. It will also include a parking garage for off-duty buses, employees and visitors.
Unique aspects of the project include compressed natural gas (CNG) systems and provisions to accommodate future bus technology for the use of clean diesel, hybrid electric diesel and battery electric buses (BEB). Hensel Phelps, along with its design team partners, will integrate electric bus charging infrastructure for the following equipment at Bladensburg:
59 support locations for overhead pantograph charging and associated power cabinets, covering a total of 68 articulated buses and 112 standard sized buses.
Overhead down pantographs and associated charger cabinets (power blocks) in the outdoor bus storage area south of the facility on the first level of the structured parking deck, covering a total of 32 articulated buses and 93 standard sized buses.
Two new electrical BEB power buildings and new BEB main power supply building on-site to house new, required power equipment and modules.
New main feed switchgear to accommodate two new power feeders from the utility source, including conduit and wire from a PEPCO (The Potomac Electric Power Company) designated service connection point and the new main feed switchgear.
Subpanel(s) for the overhead chargers located in the new electric power buildings, conduit and wire from the switchboard to the new subpanel(s), and from charger cabinets to pantograph down dispensers.
Shepherd Parkway Bus Garage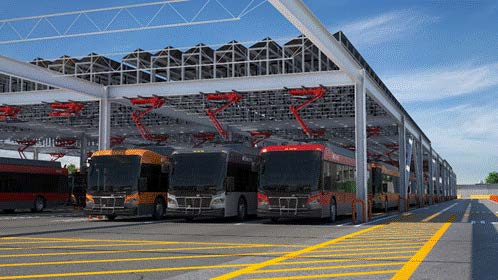 As part of the Bladensburg Bus Garage project, Hensel Phelps is installing overhead electric charging infrastructure for the Shepherd Parkway Bus Garage for WMATA's Battery-Electric Bus Test and Evaluation Program. This project supports the planned operation of a test and evaluation fleet of BEB technology. Hensel Phelps will provide design, procurement, construction, installation and commissioning services for make-ready 480V/120V electrical systems and structural mounting for BEB charging infrastructure. The site will accommodate two 300kW chargers and five 150kW BEB overhead chargers. The power delivery to buses occurs via ceiling-mounted overhead pantograph down charging systems. Twelve electric buses will run out of the Shepherd Parkway Bus Division in the district as part of WMATA's Battery-Electric Bus Test and Evaluation Program.
The electric bus test and evaluation at Shepherd Parkway will help provide data and experience in typical Metrobus operating conditions. The test and evaluation period includes 12 electric buses (10 standard length and two articulated), allowing Metro to test multiple vehicles and charging manufacturers. During this time, Metro also aims to ensure that different buses and charging technologies can work interchangeably and are scalable, while also collaborating with local utility providers throughout the region.