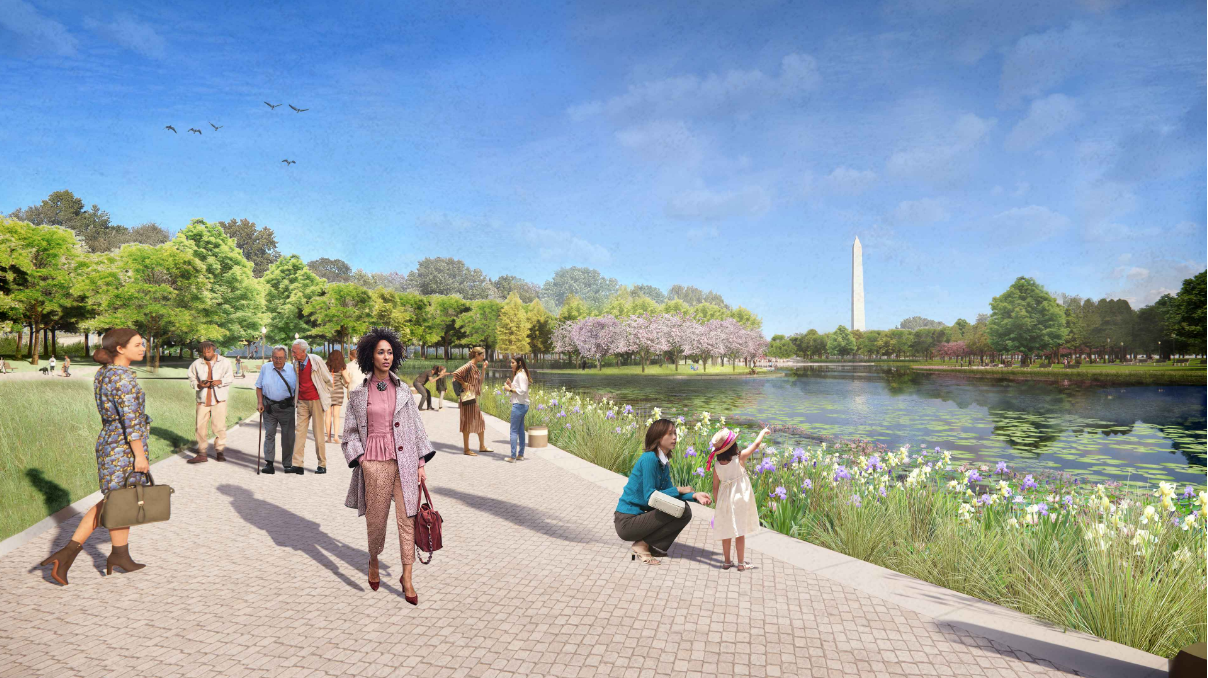 The Trust for the National Mall awarded Phase II of the rehabilitation of the Constitution Gardens to Hensel Phelps. Part of the National Mall Loop, Constitution Gardens is adjacent to the Lincoln Memorial Reflecting Pool and situated between the Vietnam Veterans Memorial and the World War II Memorial.
Phase II of the rehabilitation includes the redesign of the lake and water resource management as part of the new site plan designed by PWP Landscape Architecture and Rogers Partners Architects + Urban Designers. The previously constructed design compromised the health and viability of the trees, plantings and manufactured lake. The non-eco-friendly design of the lake resulted in algal blooms, an unsustainable fish habitat, dying trees and costly, labor-intensive maintenance. Phase II also addresses the rehabilitation of Signers Island with improved pathways for visitors. The overall goal is for the underutilized space to become a vibrant urban park that will highlight environmental sustainability.
Hensel Phelps will reconstruct the lake to support a functioning ecology while reducing the impacts of storm water on the surrounding landscape and buildings. Additional scope includes upgrades to the surrounding landscape, soil remediation and planting new gardens with native species and flowering plant life. The 36-acre restoration includes upgraded amenities, a new lake ring that will allow visitors to walk farther out into the lake and a series of gathering spaces, which form an event plaza, that can be used to host events. In recognition of the historic significance of the site, the design also incorporates educational opportunities for visiting students and families.
The Trust for the National Mall is the leading nonprofit, nonpartisan philanthropic partner of the National Park Service. The nonprofit organization dedicates itself to restoring, enriching and preserving the National Mall through expertise, private funding and in-kind support for projects. In 2018, Hensel Phelps completed the $4.8 million Phase I of the rehabilitation of Constitution Gardens, which consisted of the relocation and restoration of the Lockkeeper's House. Preconstruction for Phase II is underway, with construction anticipated to begin in late 2023.