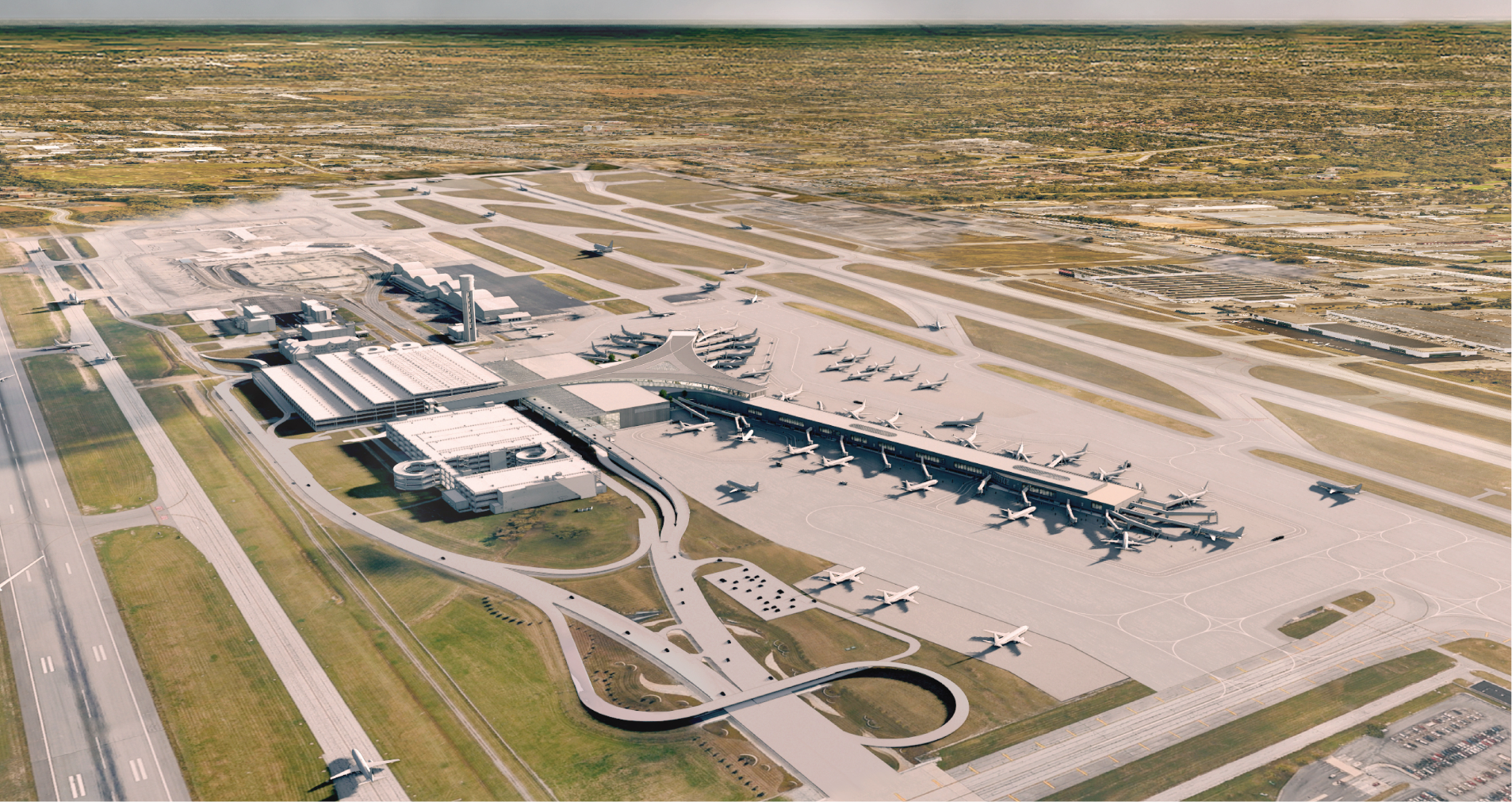 On June 27, the Columbus Regional Airport Authority (CRAA) selected Hensel Phelps as its Construction Manager at Risk (CMaR) on its New Terminal Project at John Glenn Columbus International Airport. Hensel Phelps teamed with Columbus-based general contractor Elford, who will be an integrated partner throughout the project. The Hensel Phelps | Elford team will provide preconstruction and construction services for the project. The CMaR team partnered with several Ohio-based Diverse Business Partners (DBP)/Disadvantaged Business Enterprise (DBE)-certified small businesses who will be integral during the preconstruction phase of the project.
The milestone project marks the beginning of Hensel Phelps' relationship with CRAA and Elford, as well as its presence in the Ohio market.
"Elford is thrilled to partner with Hensel Phelps, America's #1 airport builder, to serve CRAA as the Construction Manager for our new airport terminal. We are honored to join a dynamic group of talented community leaders and a world-class design team to build a new hub that will serve as Central Ohio's connection to the world for generations to come."

Mike Fitzpatrick, President, Elford
The project scope includes the replacement of an existing terminal, which opened more than six decades ago in 1958 and has served more than eight million passengers annually. Designed by Gensler in partnership with local architect Moody Nolan, the new 1,000,000 SF terminal will increase its capacity to service more than 13 million passengers annually. Following the completion of the new terminal project, the existing terminal will be demolished.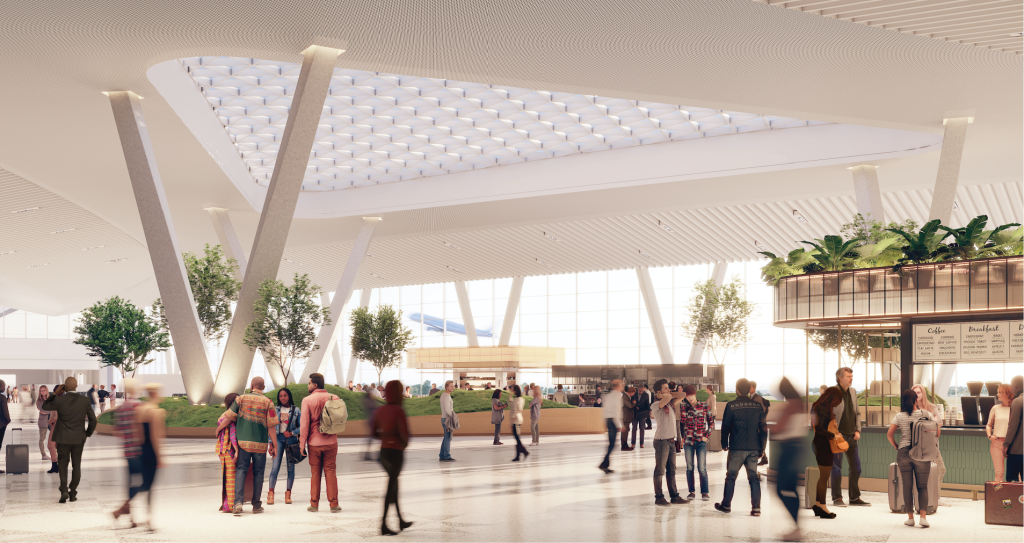 The new passenger terminal will be located on International Gateway across from the existing consolidated rental car facility (CONRAC). It will be comprised of five primary components which include a pedestrian bridge, an entry canopy and head house, a marketplace and east and west concourses. The pedestrian bridge will connect the terminal to the CONRAC and parking garage. The canopy will run along the north façade of the terminal and extend over four lanes of traffic. It will feature a 74-foot, cantilevered structure with an exposed back span extending into the headhouse. The marketplace will serve as a central gathering area and provide stunning views of the airfield to the south. It will house a dining area surrounded by concessions and freestanding retail pavilions. The east and west concourses will house secondary retail and concession spaces, and hold rooms in addition to boarding gates.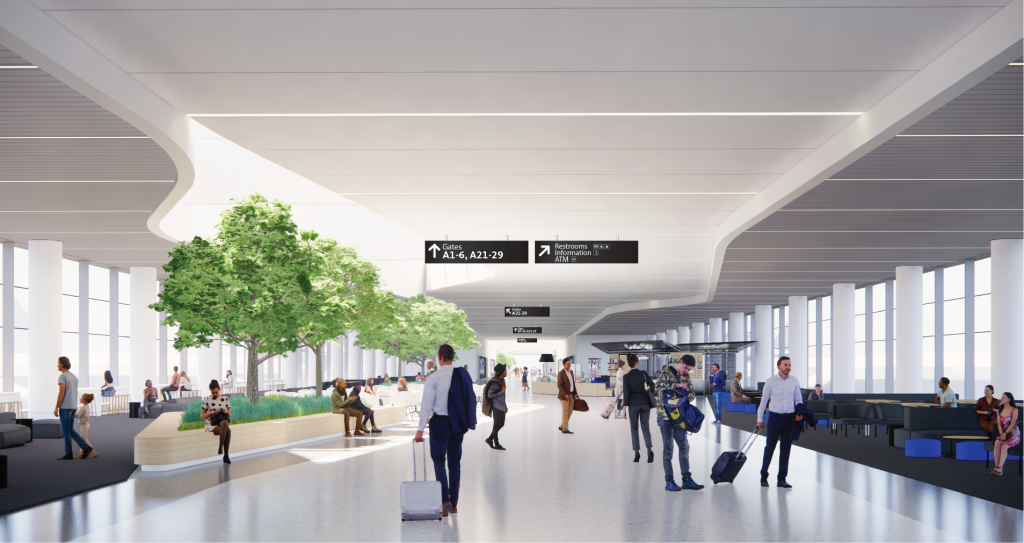 Planning is currently in the design development phase. Future phases of the project are under development. Construction is slated to begin in late 2024 with an anticipated opening date between the end of 2028 or the beginning of 2029.
 "We are truly honored to be selected as CRAA's partner on a landmark project that will transform the future of aviation in Columbus. We found an ideal local partner in Elford. They bring values that align perfectly with ours and a 113-year history in the Columbus region. Together, we are committed to fulfilling CRAA's vision for the New Terminal Project in a way that is collaborative, inclusive and maximizes benefits to local business and the Central Ohio community."

Matt McCaulley, Director of Operations, Hensel Phelps
KEY FEATURES
Levels: Two floor terminal for passengers, and a third floor for administration
Program: Terminal, Concourse, Concessions, Ground Transportation Center, Public Safety Building, Concessions Warehouse, Landside Roadways, Airside Apron and Taxiway, Connecting Pedestrian Bridge
Gates: 36, which will accommodate A320 and 737 aircraft. Includes two international arrivals gates and Federal Inspection Services (FIS) facilities.
Checkpoints: One, consolidated to offer clarity and efficiency 
Remain overnight (RON) aircraft parking positions: 18
Maximum annual passengers (MAP): Capable of 13 million
Sustainability: Aircraft hydrant fueling system, reclaimed water, LEED sustainable design profile