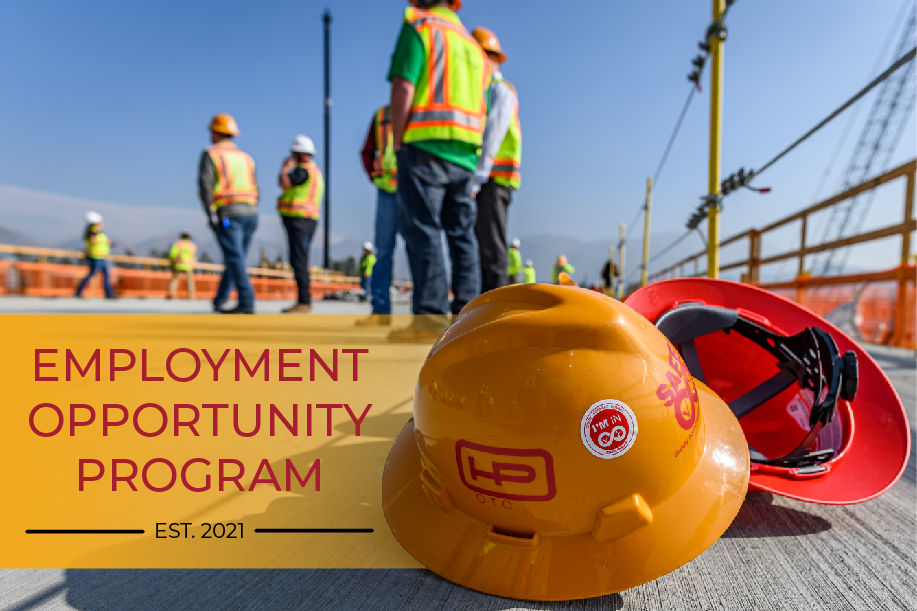 As a contractor building in the Los Angeles community, Hensel Phelps values the opportunity to contribute to the training and job possibilities for the local people. Hensel Phelps proudly founded the Employment Opportunity Program in 2021. The Employment Opportunity Program was created in Southern California to connect the homeless community with job prospects in the construction industry.
Hensel Phelps Manager of Supplier Diversity Michelle Keyser partnered with People Assisting the Homeless (PATH) to create the first cohort of the Employment Opportunity Program. An individual was recommended by PATH Senior Employment Specialist Jonae Watts and interviewed by Hensel Phelps forepersons and superintendents. The selected candidate participated in the Laborer's Local 300 boot camp and, upon graduation, received sponsorship into the Union in Fall 2021 to work on an LAX project with Hensel Phelps. Hensel Phelps supported the new laborer's search for permanent housing by providing a letter to the landlord affirming employment. He was able to move himself and his family from a shelter into a permanent residence.
"The Employment Opportunity Program was created to change people's lives. Providing someone the opportunity at a better life for themselves and their family is at the core of what we do."

– Michelle Keyser, Hensel Phelps Manager of Supplier Diversity
The Employment Opportunity Program allows individuals to improve their livelihoods and build steady construction careers for themselves. The program's mission aligns with the Hensel Phelps Way of valuing growth and providing long-lasting careers. Hensel Phelps plans to continue their partnership with PATH in Los Angeles and looks forward to expanding the program throughout California in Orange County, San Diego and San Jose.