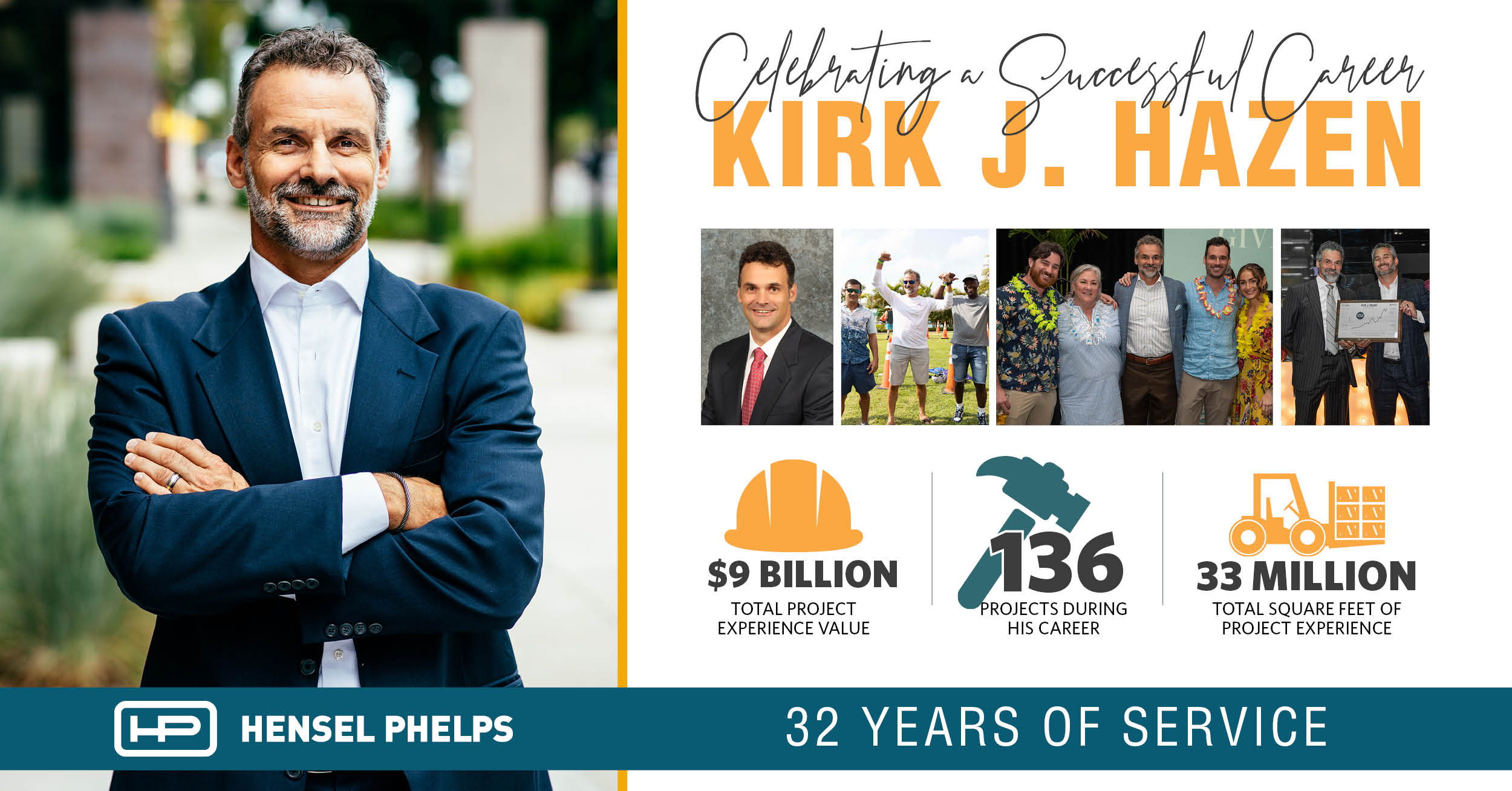 After more than three decades with Hensel Phelps, Kirk Hazen, Vice President and District Manager of the Southeast district, announced his retirement from the company in December 2022. In addition to providing the foundation for many successful projects across the country, Kirk's accomplishments included more than $9.6 billion of notable construction projects.
"I want to thank Kirk Hazen for his 32 years of service and his impact on the board of directors the past fourteen years," commented Michael Choutka, president and CEO of Hensel Phelps. "His passion for people and strategic vision has fueled extraordinary growth in the Southeast district and the Mid South region."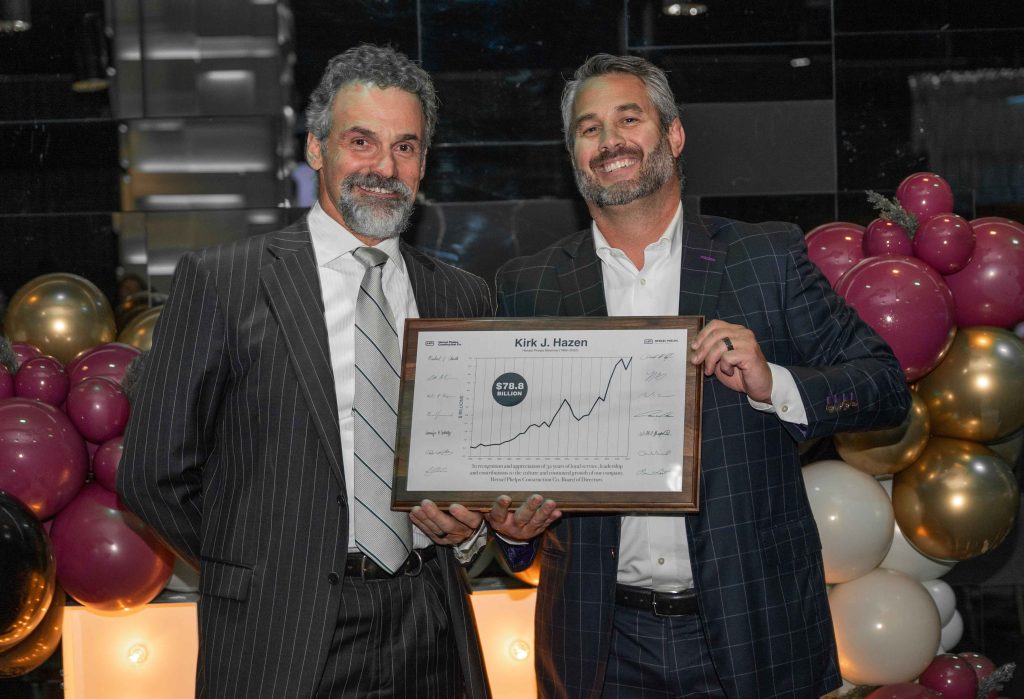 Kirk created a legacy of building partnerships and was an active member with the Associated Builders and Contractors (ABC) Central Florida Chapter and was an active volunteer within his community, supporting national organizations such as the Arnold Palmer Hospital for Women and Children, the Universal Foundation, Boys Town of Central Florida and Ronald McDonald House Charities of Central Florida.
"Thank you to Hensel Phelps and all the employees for 32 wonderful years. It has been my honor to lead the Southeast district and its amazing people these past fourteen years. The dedication and professionalism of our employees here at Hensel Phelps has made my job a pleasure. I look forward to hearing about all the great projects these teams build in the future. – Kirk Hazen
Justin Starnes, who began his career with Hensel Phelps in 2002, will succeed Kirk Hazen, assuming the position of Vice President and District Manager of the Southeast district. Justin has spent the past 20 years working alongside Kirk and is eager to continue his legacy for growth and success.
"We couldn't have picked a better person to succeed me," said Kirk. "The Starnes family has moved fourteen times in the past twenty years supporting our operational staffs through three districts. His and his family's dedication to Hensel Phelps is unmatched. He will lead the district to greater heights."

Some of Hensel Phelps' most notable work in the Southeast includes the recently completed South Terminal C Airside project in Orlando, Florida, the Navy Federal Credit Union Campus Expansion in Pensacola, Florida, and the up-and-coming Zone 1 F-35 Flightline Facilities at Tyndall Air Force Base, Florida. All three have been the district's largest project awards to date at a total of $1.8 billion. Moving into 2023, the Southeast district will focus on growth and expansion with new clients and markets, while continuing to grow our longstanding relationships with our repeat clients.
"I want to thank Kirk for his 20 plus years of mentorship he has provided me," said Justin. "Kirk is not just a great coworker but has become a close friend over the years. Kirk has chosen to step away at the top of his career in a very humble fashion. He could not have done it in a better way."
Please join Hensel Phelps in thanking Kirk Hazen for his 32-years of distinguished service and wish him well in retirement. Congratulations to Justin Starnes on his promotion to Vice President and District Manager.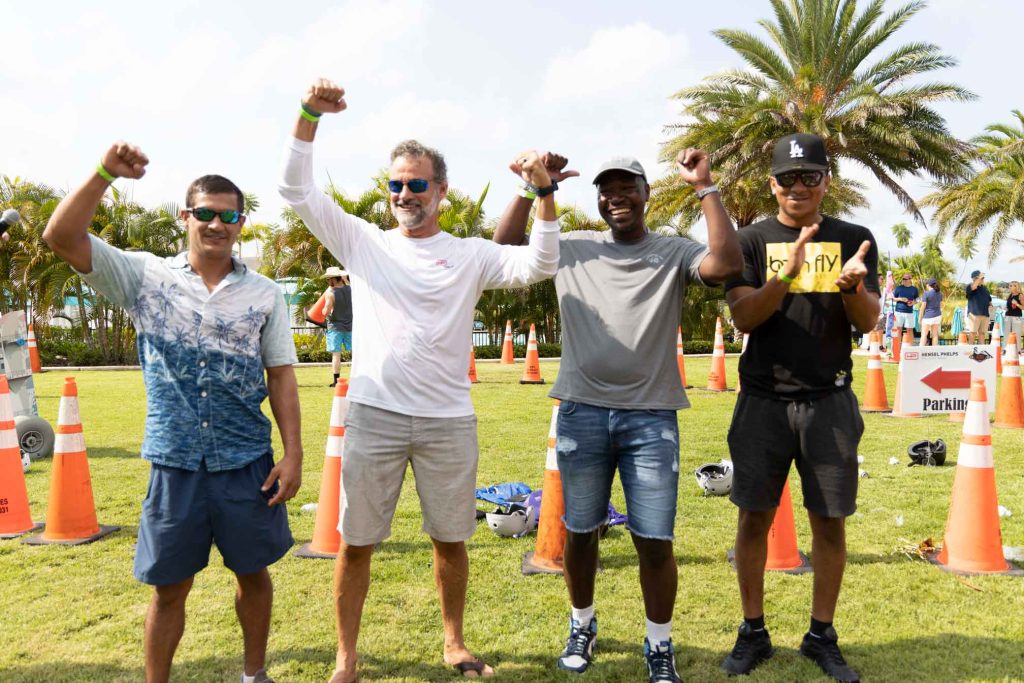 About Kirk Hazen
Kirk J. Hazen joined Hensel Phelps in 1990 and is a graduate of the University of Florida with a B.S. in Building Construction. As the Vice President and District Manager of Hensel Phelps, Kirk established policies and strategies that promoted the growth of the Southeast District based in Orlando, Florida.
Kirk began his career in Little Rock, Arkansas as a Field Engineer and rose through the ranks of Office Engineer, Project Engineer, Area Superintendent, Project Manager and Operations Manager, before being appointed to the Southeast District Manager and Vice President.
Kirk and his wife have four children and enjoy spending as much family time together as possible.