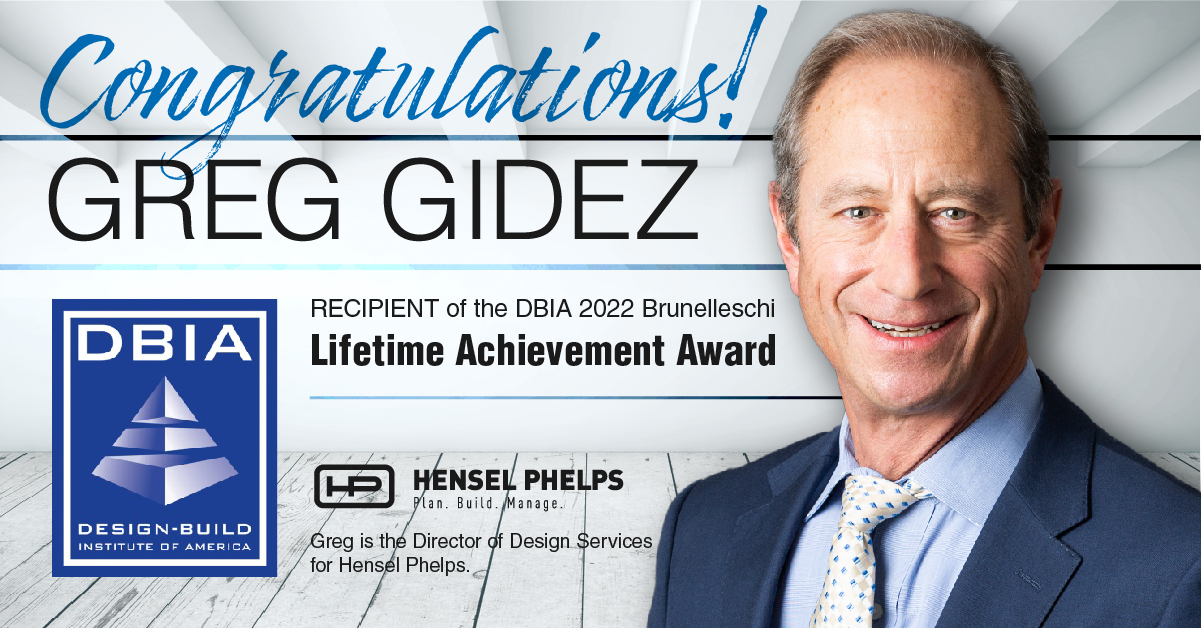 GREELEY, Colorado, October 17, 2022 — The Design-Build Institute of America has presented Greg Gidez, Corporate Director of Design Services for Hensel Phelps, the 2022 Brunelleschi Lifetime Achievement Award, DBIA's highest individual honor. The Brunelleschi is presented to individuals who have made significant contributions to the design and construction industry through outstanding leadership and innovation in the advancement of design-build project delivery. Recipients of this award have exhibited originality, vision, and breadth over the course of their professional life, with 25 years or more of strong and well-documented commitment to design-build project delivery. Greg will be recognized at DBIA's 2022 Design-Build Conference & Expo, Nov. 2-4, in Las Vegas, NV.
"Each year, we're setting new goals and reaching new heights in design-build. With recent market analysis projecting design-build to account for nearly half of all construction spending by 2025, it's clear that design-build is changing the way America builds.  DBIA is leading the way in advancing Design-Build Done Right™, and we're proud to recognize the industry leaders helping to drive change, innovation and collaboration.  This year's award winners exemplify excellence and are among the best of the best in the industry."  —Lisa Washington, CAE, DBIA Executive Director/CEO
Named after Filippo Brunelleschi of Florence, a master builder best known for solving an "unsolvable" architectural puzzle and completing the dome of the Santa Maria del Fiore, recipients of this award have exhibited originality, vision and breadth over the course of their professional lives.
Greg Gidez's work as an industry leader, innovator and teacher truly embodies the spirit of this award. Throughout his career, he has helped the design-build industry embrace the mental shift needed to empower collaboration, moving beyond cost and schedule to look at triple-bottom line successes in design-build project delivery. His work as Hensel Phelps' Director of Design Services is impressive in its own right, delivering many notable design-build projects over the decades while also demonstrating the value of Design-Build Done Right® best practices time and again to clients and team members alike.
Greg's leadership at DBIA spans the decades, including as a DBIA National Board Chair, Committee leader, DBIA-approved instructor who's also created design management coursework, Mentor and Fellow. Congratulations, Greg, on this once in a lifetime achievement.
To learn more about the Brunelleschi Lifetime Achievement Award and to see a list of past recipients, visit: https://dbia.org/awards/brunelleschi-award/.